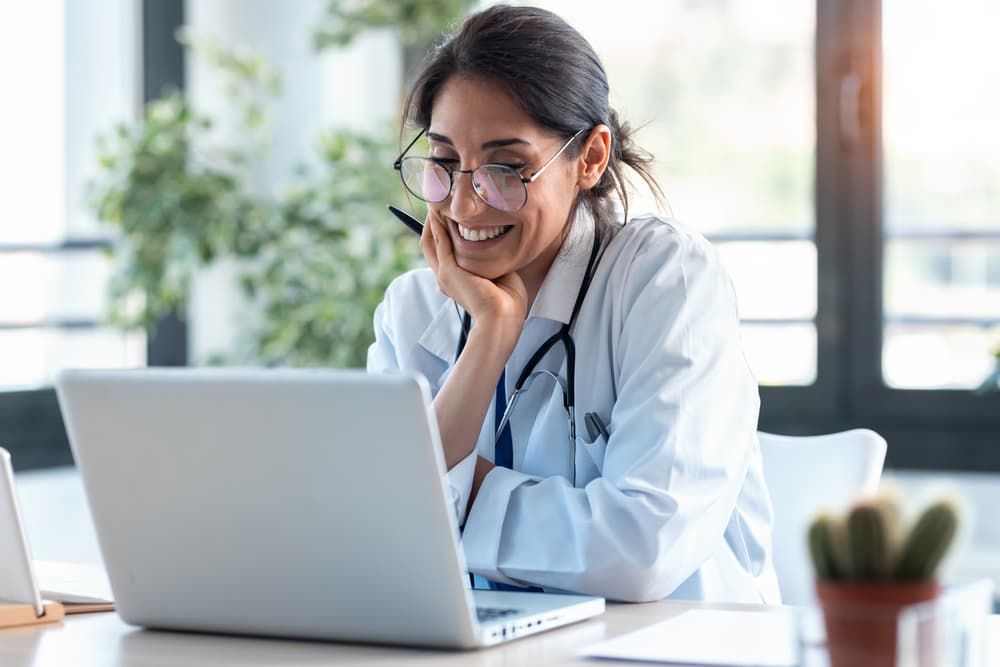 How long does it take for your office to respond to new patient inquiries? Imagine a medical practice that could reply within 15 minutes, whether questions come via phone call, email, social media or any other channel.
The Spiegel Center, a plastic surgery practice in Boston, does exactly that. Run by husband-and-wife team Jeffrey and Onir Spiegel, the practice has built a worldwide clientele, serving thousands of patients from all 50 states and more than a dozen countries worldwide.
Much of that success is due to the quality and speciality of medicine offered at The Spiegel Center. Dr. Spiegel is an expert in head and neck surgery and a specialist in facial feminization surgery, helping thousands of transgender women make the transition. Dr. Onir, as she is known, is a national expert in facial aesthetics.
But the practice also takes business development seriously, creating an advanced marketing and analytics program to court new patients. Brian Miller, director of operations and business development at the practice, has three full-time and one part-time specialists on his team, and part of their job is real-time response. He says that understanding what patients want and how they go about conducting research is integral to generating new patients.
"They're researching healthcare providers in the aesthetics field and the plastic surgery field," Miller said. "So you're one of maybe five people that they've chosen to reach out to. They sat down at a computer or with their phone, and they typed something up to send to you. That means they're interested right now. And that means that, in 15 minutes, they're going to find somebody else."
As he put it, "if you respond right now, you're going to keep the lead warm. If you wait two days, and they've had a chance to talk to one or two or three other providers, now you're one of many."
Analytics and Targeted Efforts
The practice also takes an analytic approach to its market, Miller said. "The trick with any practice or any business is understanding the data," he said. "If you don't do that, then you can't make a strategy for your path forward."
Miller tracks all the usual information, such as impressions, likes and shares on channels like Facebook, Instagram, YouTube and TikTok. More importantly, he looks at the number of inquiries that come from those channels, the number of consults that result and how much revenue comes from those consults. He then matches that against the activity and spending on those same channels, yielding a full picture.
"My bottom-line goal is double-digit growth, year-over-year," he said. "I want lots of money coming in the door, and I want to do that based upon audience interest."
That being the case, Miller's program is aimed at very specific audiences. In the spring, for example, Miller knows that belly tightening, fat freezing and similar procedures will be popular among 40-something women who want to shape up for summer. The practice will reach out with highly visual content on social channels most likely to reach those women.
"Direct marketing is much more effective than broad marketing," Miller said. "It's money better spent. We spend less than other organizations by being more analytical with our data, and doing direct marketing initiatives."
Thought Leadership and Reviews
While practice gains business via physician referral, it puts more energy into promotion and testimonials from patients.
"This is a much more lucrative scenario, because we are actively going to get business, as opposed to the business being referred," Miller said. "We are promoting, 'hey, we do this thing. We do it well. And this patient says we do it well.' That drives interest in the organization, and people will inquire."
The practice created an internal system to actively solicit positive reviews, with each sales person assigned weekly and monthly goals. Miller and his team then track how they meet those goals and adjust accordingly.
The practice also benefits from Dr. Spiegel, who is a well-recognized expert in his field. His reputation draws patients worldwide—roughly 70% of patients fly in for procedures—but that did not happen without work. Spiegel is active in his specialty, chairing medical meetings and committees, and serving as Professor and Chief of Facial Plastic and Reconstructive Surgery at Boston University's medical school. With more than 100 medical publications to date, Spiegel is also active in cutting-edge research, publishes work, and trains young doctors through a highly competitive fellowship at The Spiegel Center.
Spiegel is also active in marketing, appearing in videos for social channels and writing blog posts. When Olympic gold medalist Caitlyn Jenner came out as a transgender woman, Spiegel wrote a series of articles in The Daily Beast explaining the physical transformation and some of the concepts behind gender recognition.
It is all the type of work that builds name recognition. Overall, Miller said that rapid response, an analytical approach and a focus on targeted promotion helps make the most of Spiegel's reputation. Miller says he'll take that over fancy platforms when it comes to generating business.
"Before investing in a bunch of tools, make sure your practice is in a good foundational space to do the business," he said. "And then you probably won't need the tools."
There's a great deal more that practices can do to enhance marketing. To learn more, read Nitra's guide, How to Market Your Medical Practice.
To learn what the Nitra Visa Business Card can do for your practice, tour our services or call (845) 443-7752 to consult with a Nitra specialist about your needs.